Parquet, laminate and cork
Parquet, laminate and cork all belong to the hard coverings and could not be more different. Do you want to present your vein for naturalness vividly or elegantly? Then a parquet floor is just the thing for you. Parquet floors have always been considered a particularly noble floor covering. Thanks to the variety of woods, thicknesses and qualities, parquet floors are now affordable for everyone. Just choose the price / performance level that best suits your needs. And look forward to a long-term view of your parquet: We are happy to tell you what is the right care.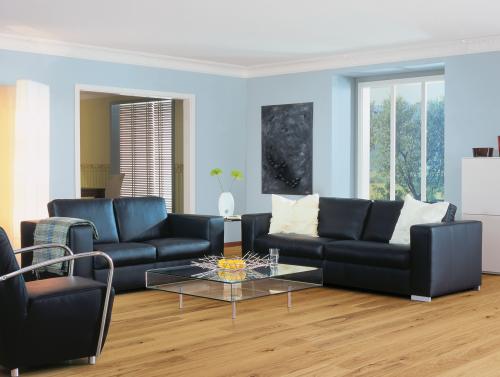 Firmly glued – a feast for the feet
Solid parquet, which is single-layered and made of full wood, is generally stuck firmly to the floor. Due to the strong wear layer, this parquet can often be sanded down and renovated. With the solid wood rods in various designs, simple to complex laying patterns can be realized.
Stave parquet
Stave parquets consist of solid wood rods with a thickness of 14, 15, 16 or 22 mm and a length between 250 and 600 mm. The standard widths are between 60 and 80 mm. The rods are laid in the tongue and groove system. Strip parquet can be glued on screeds or dry floors, if there is a blindfloor, a nailing is also possible.
Lam parquet
Solid smooth-edged bars without tongue and groove are called lamparkets. The dimensions are manufacturer-dependent, length and width are usually based on the strip parquet. Especially in the renovation of these parquet woods are used with a thickness between 10 and 12 mm.
wood block
Small wooden blocks are laid in this parquet to paved areas. The end grain is the tread surface. Wood plaster is considered particularly hard-wearing.
parquetry
Individual solid wood slats with 8 mm thickness, up to 25 mm width and a length up to 165 mm are joined together to form the so-called mosaic parquet. These slats are delivered as pre-routed units, for example on adhesive nets. The commercially available laying pattern is the "English Association". Mosaic parquet is ideal for use in combination with underfloor heating systems.
Industrial parquet
Wooden slats in the dimensions of the mosaic parquet are placed vertically here. The lamellae, available as laying units, are glued firmly to the subfloor, resulting in parquet thicknesses of up to 25 mm. The sturdy parquet is often found in the commercial sector and is also traded as industrial parquet or multipurpose parquet.
Perfectly laid with the right room climate!
For parquet to fully develop its visual and functional effect, it must be installed as seamlessly as possible. So that even in dry indoor air – as it often prevails, for example, in the winter months – no joints, we recommend a room temperature of 20 to 22 degrees and a humidity in the range between 50 and 60%. Solid parquet is produced in Germany with a wood moisture content of 9 +/- 2%. This ensures a perfect installation with low shrinkage and swelling tendency.
We offer floor coverings for the insulation of impact noise and high walking comfort with good cleaning properties, as well as repairability and dimensional stability:
Laminate is the cheaper alternative which is much more resistant than parquet but still offers a deceptively natural look today.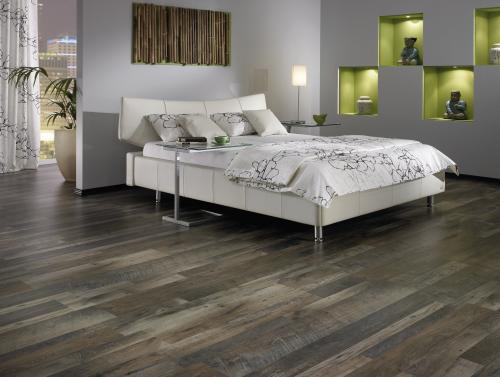 Hardwearing and easy to lay
Laminate flooring is very popular because it is extremely hard-wearing, easy-care and cost-effective. Due to the particularly hard surface structure no scratches are even created by pumps.
Structure in layers
Laminate is laid in individual panels with tongue and groove and always consists of several layers. The cover layer is made of melanin resin, including a decor paper is laid out that makes the sensational optical possibilities. This is followed by stabilization of a layer of HDF or plywood, which is equipped either with tongue and groove profile or as a click system for glueless installation. The quality determines the abrasion resistance and the panel thickness as well as the resistance to moisture.
Décor variety – almost without limits
The appearance of the laminate surface is created by a decor paper, which is covered by a hard melanin resin layer. As a result, there are basically no limits to the design. Laminate flooring is available in real wood or tile look with a variety of laying patterns and in different colors. In the meantime, there are also colorful retro patterns, graphic forms or even lawn optics in full swing. The surfaces can be made high glossy or matt, even textured surfaces are possible.
Ruckzuck clean maintained
Mist-wiping or vacuuming is sufficient care. Standing wet on the floor should be avoided during cleaning as well as during daily use. Do not use wax and oily detergents. Since the laminate floor is not absorbent, forms on the surface of a greasy film on which dust and dirt adhere stubbornly.
A laying on underfloor heating is also possible depending on the manufacturer. In order to achieve the correct sound insulation, a professional impact sound insulation is necessary. With our knowledge and knowledge, we are happy to assist you!
cork
Even cork flooring is no longer available only in the traditional cork look but also in wood or tile look. They are an alternative to parquet and laminate with not inconsiderable benefits that only cork flooring can offer.
Tips from the hard flooring specialist:
Occasional aftertreatment of the soil is essential. With normal use in the living area, one to three times a year suffice. For this there are suitable products such as oil or wax. Caution: Oil and wax soaked wipes and sponges may self-ignite. Therefore soak immediately after use in water or keep a metal container outdoors.